国际港台交流
您当前所在位置:首页 / 学术交流 / 国际港台交流
第16届东亚及东南亚土壤科学联合会国际会议第二轮通知
16th International Conference of the East and Southeast Asia Federation of Soil Science Societies (ESAFS)
March 26-29, 2024, Thai Nguyen University, Vietnam
The Organizers:
Vietnam Society of Soil Science (VSSS),
The East and Southeast Asia Federation of Soil Science Societies (ESAFS),
Thai Nguyen University (TNU),
In collaboration with
Soils and Fertilizers Institute (SFRI),
Thai Nguyen University of Agriculture and Forestry (TUAF),
Thai Nguyen University of Education (TNUE),
International School of Thai Nguyen University (ISTNU).
International Committee of ESAFS:
Prof. Shan-Li Wang (Chinese Society of Soil and Fertilizer Sciences - CSSFS, Taiwan, China)
Dr. Dipak Ranjan Biswas (Indian Society of Soil Science – ISSS, India)
Prof. Budi Mulyanto (Indonesian Society of Soil Science – ISSS, Indonesia)
Prof. Keishi Senoo (Japanese Society of Soil Science and Plant Nutrition – JSSSPN, Japan)
Prof. Yongseon Zhang (Korean Society of Soil Science and Fertilizers – KSSSF, Korea)
Prof. Keshav Raj Adhikari (Nepalese Society of Soil Science – NSSS, Nepal)
Prof. Nenita E. dela Cruz (Philippine Society of Soil Science and Technology – PSSST, Philippin)
Mr. Rapibhat Chandarasrivongs (Soil and Fertilizer Society of Thailand- SFST, Thailand)
Prof. S.M. Imamul Huq (Soil Science Society of Bangladesh – SSSB, Bangladesh)
Prof. Xiaoyuan Yan (Soil Science Society of China – SSSC, China)
Dr. Orchurbat BATKHISHIG (Soil Science Society of Mongolia – SSSM, Mongolia)
Prof. Warshi Dandeniya (Soil Science Society of Sri Lanka – SSSSL, Sri Lanka)
Prof. Vu Nang Dung (Vietnam Society of Soil Science – VSSA, Vietnam)
Prof. Rosazlin Abdullah (Malaysian Society of Soil Science – MSSS, Malaysia)
Dr. Edoardo A.C. Costantini (International Union of Soil Sciences- President – IUSS)
ESAFS 2024 Theme: Healthy Soils for Sustainable Development
Symposium Objectives:
- To share invaluable experience and knowledge among soil scientists all over the World, especially in East and Southeast Asia countries.
- To promote active participation of member societies and networking.
- To contribute towards sustainable development in the region through harmonization of agriculture and environment.
Symposium Topics:
1. Soil health (Principle and Practice)
2. Soil Fertility and Plant Nutrient for Food safety
3. Soil Classification and Mapping, Soil Evaluation and Land Use
4. Soil Ecology, Biodiversity and Soil borne Diseases
5. Soil Information and Digital Transformation
6. Mitigation and C-Sequestration in Soil/Plant System
7. Land Use to Respond to Climate Change and Sea level Rise
8. Soil Pollution, Soil Degradation and Remediation
9. Land Governance for Sustainable Development
10. Upland Soil
11. Submerged Soil: Use and Conservation
12. Land Policy in Food Safety Transformation Systems
13. Education, Extension on Soil Resources and Land Management
14. Serpentine Soils
15. Recent Advances in Soil Research
Papers not covered directly by the listed themes, but belonging to the ESAFS field will be allotted to one of the listed topics. A new symposium topic may be created based on the topics of submitted papers, in case that enough numbers of papers about the new topic are submitted.

Important Dates:
Abstract submission: Before October 30, 2023
Notification of acceptance: November 15, 2023
Early Bird registration: Before November 30, 2023
Preliminary Schedule:

Symposium format:
The symposium consists of keynote speakers, oral presentation and poster presentation. Oral presentations will be selected based on the abstracts submitted. A two-day symposium field tour is also planned.
Registration fees: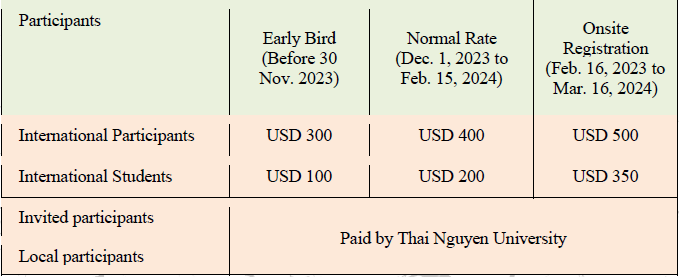 ESAFS will offer 30% discounted registration rates for groups of 5 or more people. Please contact Dr. Nguyen Thi Giang (nguyenthigiang@tuaf.edu.vn) for information on group discounts.
Note 1: Registration fee includes banquet, Lunch and dinner party on March 26, 2024 (only for the registration by March 16, 2024), proceedings, and refreshments. Accommodation and Post-Conference Field trip fees are NOT included.
Note 2: In-conference Educational Trip is free.
Note 3: The exact fee charged could be a little higher resulted by cash flow.
Information:
For further information, please contact:
Dr. Duong Van Thao (duongvanthao@tuaf.edu.vn)
Dr. Nguyen Ngoc Son Hai (nguyenngocsonhai@tuaf.edu.vn)
Dr. Hoang Huu Chien (hoanghuuchien@tuaf.edu.vn)
Web page: http://esafs2024.tnu.edu.vn
E-mail: esafs2024@tuaf.edu.vn